I noticed my eyes hurts everyday doing coding stuff so I search the Internet for a dark theme for Komodo Edit. I have found several themes but I finally chosen two and combined them. I forgot the original authors since I just found them on the Komodo Edit forum, however I got their aliases.
I like the theme called Twilight – which the user said it was based on Textmate ported to Komodo Edit. However, CSS and Smarty highlighting sucks. I really love the color combination and the background.
You can find his post here: http://blog.igstan.ro/2009/03/komodo-edit-theme.html
Then the other theme, which I found on the forum looks complete for my development languages so even if I don't like much of it, I choose it combined with the Twilight theme. The file was uploaded to a certain file upload service and the filename is loco.ksf, so I'm calling this theme dark-them-loco.ksf. I have tweaked the background colors and current line background same as the Twilight theme and the result looks like below: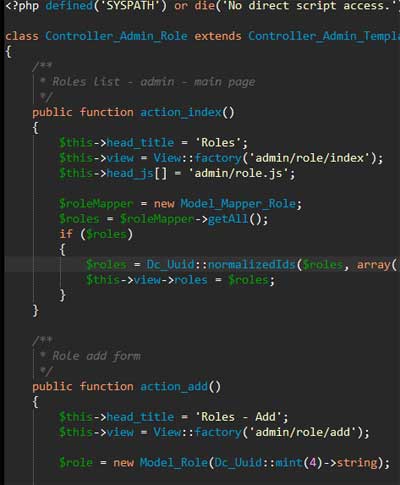 Get the .ksf code here: http://pastebin.com/HNcvMAhH.
UPDATE:
I have updated the scheme to better support Smarty templates. Get the code here: http://pastebin.com/bZrEsEs7. The sample Smarty template looks like below: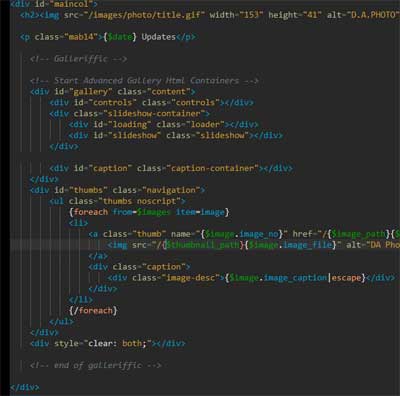 To install it on your Komodo Edit, follow these simple steps:
Get the code from http://pastebin.com/bZrEsEs7
Save the code into a .ksf file (name it anything you want)
Copy the file to Komodo's application data folder for you account. In my Windows XP box, it is at: C:\Documents and Settings\Lysender\Application Data\ActiveState\KomodoEdit\5.2\schemes
Start Komodo Edit
Go to Edit -> Preferences -> Fonts and Colors then select a scheme from the dropdown menu
That's it
Enjoy the dark side 😀