Just ended my holy week vacation and it was really worth it. However, it is the flight that excites me the most and it was fun. This article serves as a mini-guide for travelers planning to take Cebu Pacific Air a try.
Early booking
Holy week vacation is on the first week of April. Before the year 2011 ends, I got my reservation for the April 2012 flight for three. It was like 3 months early reservation. It was almost late for promos but at least I manage to get some cheap seats.
In December 2011, I book my reservation at CebuPacificAir.com for a round trip ticket from Manila to our province for 3. It is simple. Just enter the origin and destination locations, enter the departure date for the round trip flights, then fill up the online reservation form.
Looking for cheaper seats, I have not maximized my vacation. It is like off by one day since the other days are either fully booked or seats are much higher. I choose whatever cheaper it got. On the online reservation form, you can also choose the seat location. Additionally, you can add a pre-paid baggage just to be sure that you will not pay extra charges when on the airport.
I opt-out most of the extra add-ons just to squeeze out my little budget. It costs me 11k+ (Php) all in all. I choose the LBC payment method. Once the transaction is complete, Cebu Pacific sends an email regarding how to pay and when to pay for the ticket. Then I went to the nearest LBC branch and pay. The next day, my reservation has been confirmed. An itinerary receipt is sent to my email that I printed immediately. This receipt will serve as my ticket.
It is suggested to always check your email for updates such as change of schedule or cancellation of flights, etc.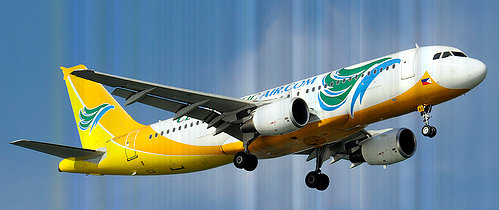 Web check-in
Tow days before the flight, I received an email from Cebu Pacific that told me to check-in using the Web check-in feature. It is required to do the web check-in at least 45 minutes before the scheduled flight. Not sure if it is departure or boarding time.
In the email, it gives you a link or URL. When I visited the link, I was given several options to identify my account. I choose the one that lets me enter my confirmation number, my first name and last name of any of the guest. When identified, it redirects me to some sort of booking dashboard.
In the dashboard, it usually displays my flight information. I clicked the Web Check-in tab. In the Web Check-in tab, there is a button that I clicked that confirms my check-in transaction. At the end, there are links about printing my board pass.
Good thing that I'm a bit of tech savvy, I manage to save the board pass into PDF. Here is how it goes. When you click the link to print the board pass, it pops up a printer-friendly web page about the board pass. In Firefox, I clicked File -> Print. There goes my PDF Kung-Fu. I used the print to file option in my Firefox for Linux, selects the PDF option, then click some button. There are three of us so I have three PDF files.
Now here is some little rant. In case a non-tech savvy people doing this procedure, there is a big chance that they will to print the board pass. Why? Simply because when you close the page and repeat the process, the web check-in tab will not appear anymore since you already checked-in. I'm not sure if there is an option to re-print the board pass though.
Here is a tip before doing the Web check-in, even if you have printer at home. Make sure that you have an option to print to PDF. In Windows, there are some software to handle this, but I'm not sure with Windows 7 though. In Macs, I don't know. You may search or ask around for this.
Now back to my board pass, I don't have printer at home so I bring the PDF files to the near internet cafe shop and print it with colors.
On the airport – departure
We managed to rent a taxi to bring us to the NAIA terminal 3 departure area. He give us some tips about how to get a non-airport taxi when we come back after the vacation. Anyway, when we go inside with our loads of baggage, we go through a series of security check.
We were forwarded to the check-in area for domestic destinations. I gave our board passes and the itinerary receipt. Our bags are weighed in. Since I paid an extra for the baggage during my reservation, I don't have to pay anything in the check-in counter.
Then we were forwarded to gate xxx. Before the assigned gate, we stopped to pay terminal fee of 200 pesos that time. Then after that, another security check is done. Shoes out, bags on scanner, etc.
Before we actually arrived at gate xxx, since it is still too early for the flight, we buy something to eat. Heck, a small bacon pizza costs me 80 pesos and a tiny bottled water costs 50 pesos. Very well, but we have to eat so be it.
In gate xxx, there are too many people in the area. We manage to find some seats and wait for 4 hours. Got some shots in the area.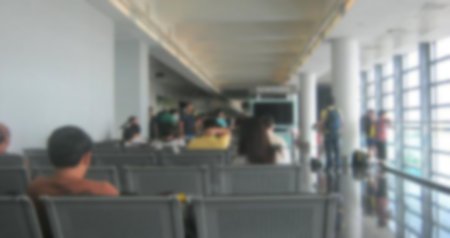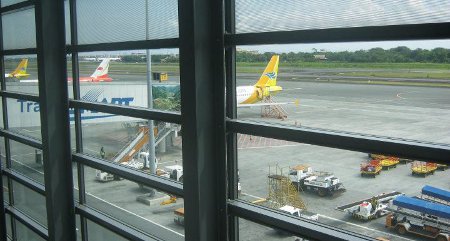 When its boarding time, as usually, we fall in line and walk through some tunnel until we finally board the plane.
On the airplane
Once on the assigned seats, we seated and put other baggage on top of our seats. It was actually nice. During take off, we are required to put the seat belts. The usual orientation routine is done by the flight attendants. When the plane stabilizes in the air, it is now safe to remove the seat belts and do something or even walk around, transfer seats, etc.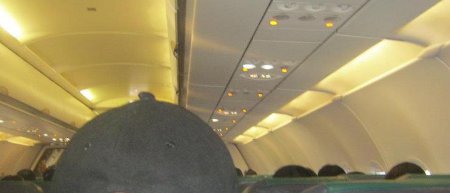 When the plane is descending for touch down, we are again required to put the seat belts. I'm so unlucky that I got this flight disorders – my eardrum is almost going to explode due to pressure. I'm wondering why others don't suffer this much as I do.
On arrival
When the air craft finally lands on the ground, we removed seat belts, get the hand carried bags and alight from the plane. We went to arrival area to get our baggage and went out of the airport. There goes another adventure of the transport system of the area.
Coming back to Manila
When we came back to Manila after the short vacation, we followed the tip. We get out of the airport through the car park exit and manage to get a non-airport taxi. It saves us 500 pesos but still costs us 1k but it worth it nevertheless.