We have two internet connections. The first is PLDT which has been established with a beautiful router (Linksys) and been used by our developer in Japan to connect to us (Philippines). The second is Globe which is much faster (bigger bill of course) but is dynamic IP and cannot be used for remote connectivity.
We don't actually need two internet connections. However, because we sometimes suffer from being too dependent on our internet connections, we got stuck when it disconnects a whole day. That is why we are adding Globe. The secondary reason for getting Globe is that PLDT line here (internet) is not reliable anymore (not like the those old time).
Thus we need to use Globe as our main internet connection while PLDT is there lying dormant until our staff in Japan wants to connect. The old setup was that there is a single modem-router setup that all our LAN cables are connected to. Meaning, when we use Globe, we connect all our cables to Globe, and when PLDT, we remove all the cables and transfer to PLDT router.
It has been a week already that our PLDT connections drops then reconnected again. I can't even open a link from my Google search because of that crappy connection. Then finally, I decided to voice out and suggested the LAN setup below.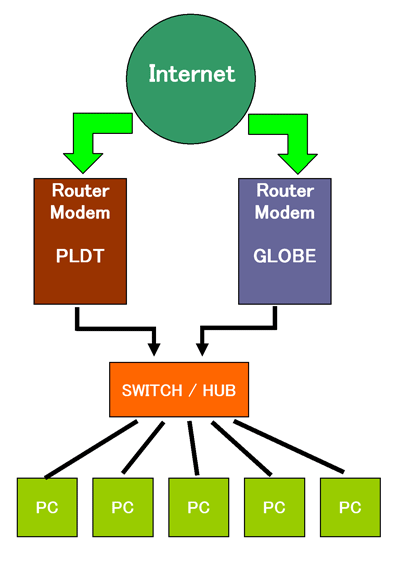 We need to use Globe so all we need to do is point our Default Gateway and Primary DNS to the Globe modem-router IP. It connects fine. Now I can enjoy blogging again. That is actually the reason why I wrote this. For without it, I'll focus with work.
Our staff from Japan only needs to connect to one server. This time he complains that he can't connect. So I changed the server's default gateway to the IP of the PLDT modem. The remote connectivity by the way is using DMZ.
So, back to work?